SimpleHelp is Customized for the Remote Workforce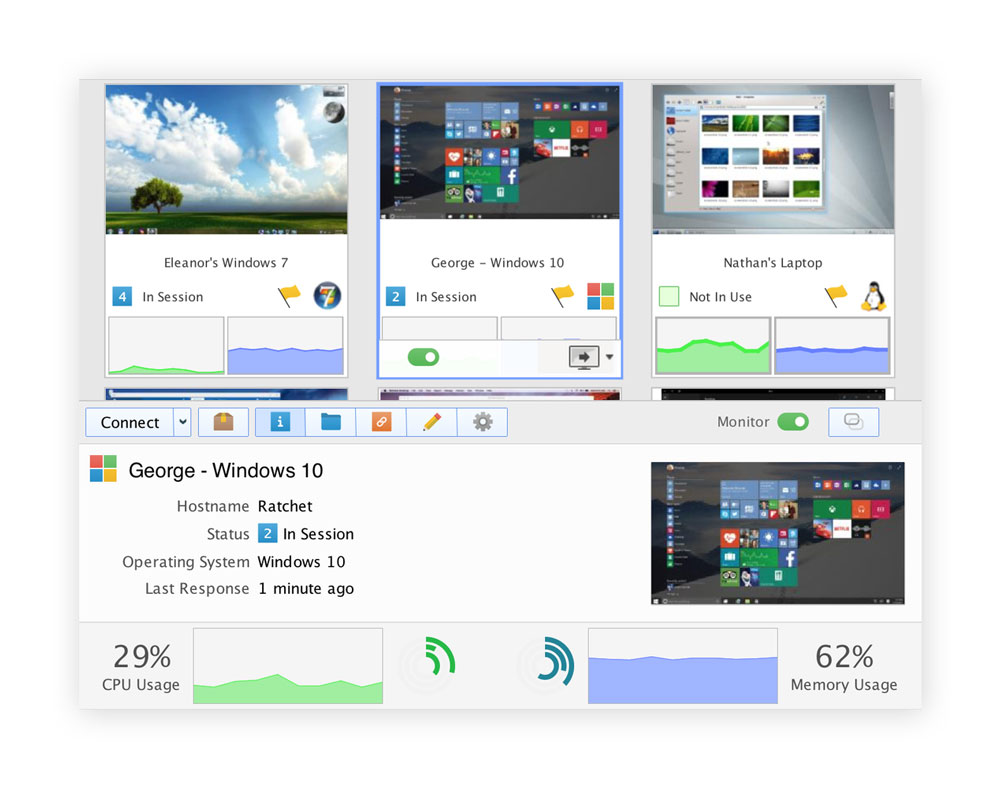 Remote Work and Remote Lab Access
Due to this ongoing climate, we've recently received more requests from customers to work from home, so we've made additions to our software and licensing model to accommodate.
We are prioritizing the development of the remote work features within SimpleHelp. Here are the details:
Create a simple low-cost method to allow our customers to provide remote work as an option to companies they support, allowing end-users to gain access to their work machine.
Prioritize the development of this feature and intend to release it as an update to 5.2. Our goal is to have the first version out within 1-2 weeks.
The design of this is not final and may change but you can read about the details of how we intend this to work below.
Anyone with an up-to-date license of any size or tier, new or old, will be able to offer remote work sessions via their server, with no limit, at no cost for at least the next three months to help people work from home during the coronavirus outbreak.
In the future, for anyone wishing to continue offering this as a service to their users from their SimpleHelp server, we anticipate offering remote work as a per-machine cost per month. This is entirely independent of any technician licenses. It does not consume any technician licenses and does not affect your normal session limit, meaning this cost maps directly and easily to the way you would bill end users for remote work access.
---
Remote Work Overview
Please Note: The description below is how we intend remote work to operate within SimpleHelp, but we will be listening to customer feedback on this and adjusting our plans as development progresses. As such, please expect changes to the below description in the final released product.
The first step to enabling remote working is to have the Remote Access Service installed on the target systems and shared with your SimpleHelp server. This can be achieved via the normal methods of having the user install the software or using Mass Deploy. Existing remote access deployments will automatically have the option to allow remote working.
Next, in the same way, that you would flip the switch to enable monitoring on the target machines, another switch will be available to enable remote work. This can be enabled on single machines or larger groups of machines.
Once enabled, a shortcut will appear in the start menu of the target systems for setting up remote work. The user can be instructed to run this.
The remote work setup app, launched by the end-user, will allow them to enter their email address to receive a link to work from home on their dedicated machine.
When at home, they can click the link to download an app that will launch a simplified version of the technician session app directly to their machine, through your SimpleHelp server.
We are still considering the details of authenticating users but at the moment we plan on implementing the following:
OS-level authentication when a remote worker logs on to their machine via SimpleHelp, in conjunction with a two-factor authentication code, emailed to them (the benefit of this system being there is no user management at all)
Technician group style authentication via LDAP/AD (to allow for support of existing authentication systems in companies)
---
SimpleHelp Upgrade
For those who want to upgrade SimpleHelp, please follow the link below to a how-to video.
In Summary
We hope all our customers' businesses are managing during this time, and we hope that these additions will allow many of you to more effectively support the businesses that depend on you.